Welcome to my Christmas-y home, 2012!
Lots of pictures and not too many words...enjoy!
In the photo above, you are in the entry hall, and in the one below, our living room.
And now, onto the dining room...
My daughter made these cute little Christmas-y lavender sachets for me.
In the kitchen window sill are paperwhite bulbs which are starting to bloom
and a homemade wreath hangs from the curtain rod.
This has been a big hit with the grandkids!
I hope you enjoyed the tour!
Come back again!
It's almost Friday!
Have a HAPPY, HAPPY Friday
and
a BLESSED weekend!
Still following,


Also linking to Jennifer Rizzo's Fabulously Creative Friday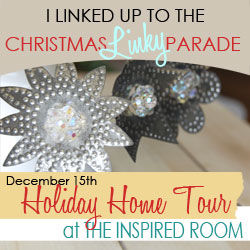 also joining the Holiday Home Tour at Faded Charm